Valley View Excavation is a top Plainville excavation contractor.
We provide high-quality services for residential and commercial excavation projects, including water and sewer lines, slope stabilization, driveway and road grading, foundation work, septic installation, and drainage solutions.
Our experienced team will ensure your project is completed on time and on budget – each and every time.
Thanks again for the work you did over the past two days. Amy and I are extremely happy with it! We will be passing along your name to anyone we know looking for work like this in the area. We will also contact you when we get the cash for our next outdoor improvement project.

Pat, Unionville CT
Quality Materials & Exceptional Service
At Valley View Excavating, we take pride in the quality of our excavation services. Our team uses only the highest quality materials and the latest construction methods to ensure the best possible results.
We'll provide you with a complete service package that's tailored to meet your needs and keep you updated throughout the process.
Variety of Excavation Services Offered
Whether you need general excavation or are looking for Plainville sewer line excavation, Valley View Excavating has you covered.
Our professionals are experienced in handling both residential and commercial projects, and ensure quality and safety every step of the way.
Slope Stabilization
Slope stabilization is essential for preventing soil erosion, landslides, and soil movement. It's an extremely important step in any project that involves steep slopes or hillsides.
Valley View Excavation specializes in stabilizing slopes using various techniques such as retaining walls, drainage systems, and erosion control measures that are customized to your project's needs.
Driveway and Road Grading
Valley View Excavation knows that grading is not just about creating a smooth, level surface. Proper grading ensures proper drainage and helps prevent erosion, potholes, and other hazards.
Our professionals ensure the right amount of water runoff is achieved to keep your surface level and reduce the chances of any dangerous situations.
Septic Installation
Valley View Excavation understands the importance of conducting septic installations with precision and care. We comply with all state and local regulations and take into consideration your property's landscape and environment to determine the best place for your septic system.
Our team will handle everything from design to installation and ensure your system operates seamlessly for years to come.
Drainage Solutions
A well-designed drainage system can help address problems caused by excessive water, such as erosion, flooding, and damage to property and infrastructure.
Valley View Excavation provides the best drainage solutions for any residential and commercial property. We'll work with you to determine the best approach and ensure that the design and installation are both appropriate and effective.
Experienced & Knowledgeable Team
We have a team of experienced professionals who are knowledgeable in all aspects of excavation. Our team is dedicated to providing exceptional service and will work hard to ensure your project is done right and to your satisfaction.
With our expertise, you can be sure that your project is in good hands.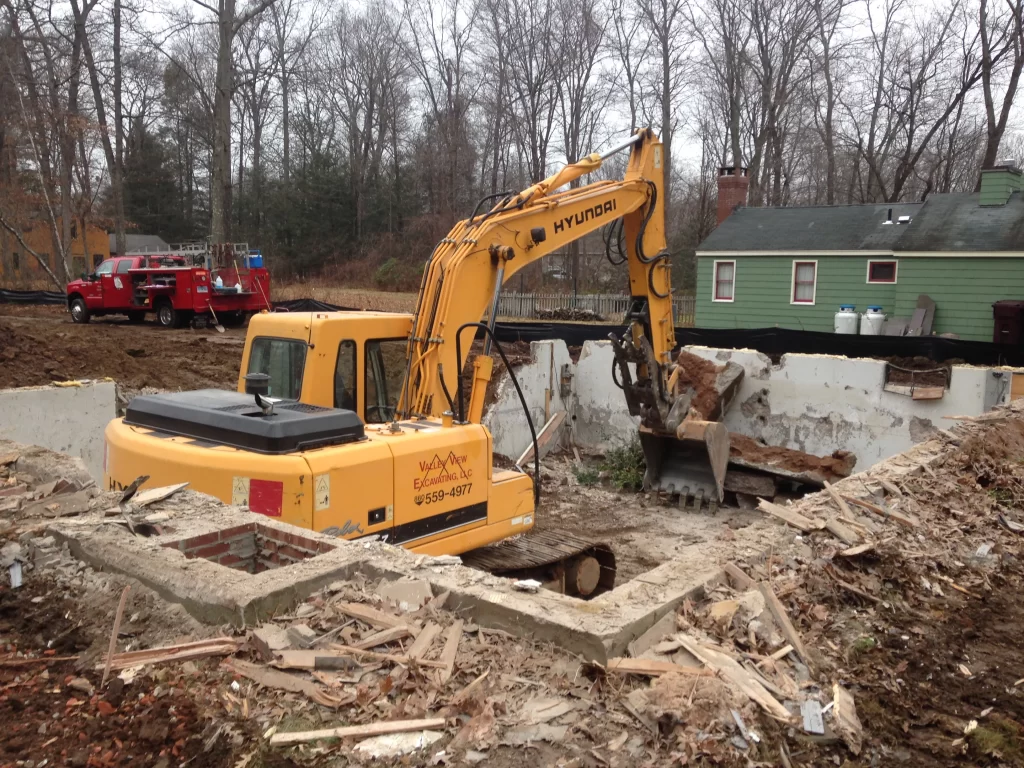 Hire the Best Excavation Contractor in Plainville, Connecticut
You don't need to dig deep to find the best excavation contractor for residential and commercial work in Plainville. Just contact Valley View Excavation, LLC.
Valley View Excavation has the experience, expertise, and professionalism to handle any project, big or small. So, why settle for average when you can have exceptional? Give us a call today, and let us help you with your next excavation project.
About Plainville, Connecticut
Plainville Weather
Plainville Overview
Plainville, Connecticut has a population of 17,500 residents. It is located in Hartford county and is known for having good schools and great outdoor activities. Plainville has a small downtown area with storefronts and restaurants. Interstate 84 runs through Plainville and makes it a popular location for commuters from Hartford and other larger cities in Connecticut. The town also has public transportation.
Town History
Plainville was formerly a part of Farmington but separated into its own municipality in 1869. It used to be a popular area for manufacturing in Connecticut. The historic district includes the downtown area. One popular historical site is the Plainville Camp Ground which was a gathering spot during the 20th century for Methodists.
Geography
The town is approximately twenty-five square miles. It is a mostly residential town with some businesses in it. The town is bordered by the following towns:
Southington
New Britain
Farmington
Bristol
Numerous natural sites can be found throughout the town, such as Norton Park, which has a pond, picnic spaces, and walking routes.
School System
The town offers an excellent public education system. Schools provide both high academic standards as well as many fun extracurricular programs.
Popular Attractions
The following are a few popular attractions in the town.
Norton Park
Norton Park is Plainville's largest park. It is 272 acres and has walking routes, picnic spots, playgrounds, sports fields, and a pond. The park has concerts and festivals that happen throughout the year.
Second Timothy's Tavern
One of the most popular restaurants in Plainville is J. Timothy's Taverne. This restaurant is best known for its "dirt wings," which are wings that have been deep-fried and then seasoned with a blend of spices. Burgers, sandwiches, and salads are just a few of the numerous pub-style meals available at J. Timothy's Taverne.
Farmington Canal Historic Trail
The 84-mile Farmington Canal Heritage Trail connects New Haven, Connecticut, with Northampton, Massachusetts. The trail runs through Plainville along with several other towns in Connecticut.
The Barnes Nature Center
In Bristol, not far from Plainville, there is a wildlife preserve and educational facility called the Barnes wildlife Center. The facility offers a pond, a number of walking trails, and a range of educational activities. Families and environment lovers who want to discover the region's natural beauties should visit the Barnes environment Center.
We also offer hardscaping services including patio pavers, retaining walls and outdoor kitchens.