If you're a homeowner in Connecticut, you know that your sewer line is one of the most important aspects of your home's plumbing system. If there's a problem with your sewer line, it can cause major problems for your homes plumbing and even damage to your home itself.
That's why it's so important to have the number for the best sewer excavation services in Connecticut, on speed dial.
Valley View Excavating, LLC provides complete sewer repair services. We have the experience, equipment, and expertise to handle any sewer excavation job, no matter how big or small. The town of Plainville, Connecticut, where we are located, has even chosen us as their municipal contractor for sewer excavation work.
View our excavation project gallery for photos of our sewer excavation projects.
What is Sewer Line Excavation?
Sewer problems are never fun to deal with, but sometimes they're unavoidable. Once you know there's an issue, it's important to act quickly and address the problem before it causes major damage. In some cases, you may need to turn to sewer excavation to get the job done.
But what exactly is it?
Sewer excavation is a process in which a trench is dug or a hole is created in the ground to access the sewer line. This is necessary when the sewer line is blocked or damaged deep below the surface, making it impossible to reach it without digging up the surrounding earth. It can also be a necessary step in replacing or repairing damaged pipes.
Though sewer excavation isn't always ideal, it can be necessary to get the job done right. Traditional methods of excavation involve digging a trench to access the sewer line directly.
You might need sewer excavation if you have a clogged or damaged sewer line that can't be reached through other methods.
Common causes of sewer problems include:
impeding tree roots
aging pipes
blockages from debris or foreign objects
Sometimes, only a small section of the pipe needs to be excavated, while other times, a larger area might need to be dug up. It's important to work with a professional who can assess the situation and determine the best course of action.
When dealing with a sewer problem, it's important to act fast. Any delay can cause the issue to worsen, leading to more extensive and expensive repairs.
That's why it's important to have a professional on hand who can identify the issue and take quick action. Even if you're not sure if sewer excavation is necessary, it's important to get the opinion of a professional.
Valley View Excavating provides reliable and efficient sewer excavation services for residential and commercial customers in Connecticut. While we are located in Plainville, CT, we provide services in the larger Connecticut area, such as Southington, Bristol and New Britain.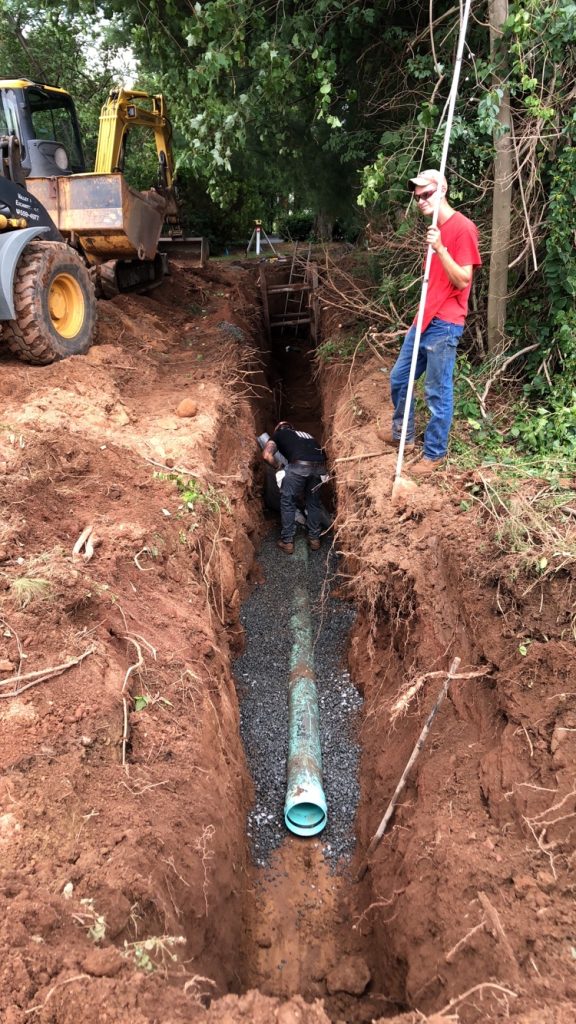 When Should You Hire a Connecticut Sewer Excavation Company?
When you experience a clog or sewer damage, it's important to hire a professional for sewer excavation services.
Our experienced technicians will thoroughly assess the problem and provide the best possible solution.
In some cases, the pipe may be able to be cleared without excavation, while in other cases, excavation may be necessary. We can help you determine the best course of action for any sewer line issue.
Why Choose Us for Your Sewer Excavation Project?
When you choose Valley View Excavating for your sewer excavation project, you can trust that the job will be done right. We are owned and managed by Adam Zadrozny, and he is on-site at all times to ensure that our services meet your expectations.
Unlike some larger companies, we offer a more hands-on experience, so you can rest assured that your sewer excavation project will be completed quickly and efficiently.
If you're in need of sewer excavation services in Plainville, CT, contact Valley View Excavating today for a free quote!
FAQ
How deep are most sewer lines buried?
Most sewer lines are about six to eight feet deep, but this does not mean that excavation contractors won't have to dig deeper to reach the problem area or to lay new pipes. In some cases, the excavation might have to be deeper due to obstructions or bedrock.
How do you trench a sewer line?
Trenching sewer lines involves digging a narrow and deep path that spans the length of the pipes. The depth of the trench depends on the pipe's size, the soil's composition, and the local codes. The excavators then remove the dirt or debris and replace the soil after the repairs are done.
Who are the best sewer excavation contractors near me?
Valley View Excavating LLC is one such top-rated and professional contractor in the area. We specialize in sewer excavation, septic system repair, residential and commercial services, and more.
What is a sewer excavation cost?
The cost of sewer excavation varies based on several factors such as its depth, location, type of excavation needed, and the contractor. Make sure you get an estimate to ensure you understand all the costs associated with your sewer line excavation project.