Patios are an essential part of any outdoor living space, and having a well-designed one can do wonders for your home's aesthetic appeal.
However, having a patio installed can be time-consuming, and it requires a lot of effort – which is why many homeowners turn to experienced patio paver installers.
Valley View Excavating is a top Plainville patio paver contractor and we install all sorts of patio pavers. View our project gallery of paver projects to see some examples of our work. We not only do hardscaping but also are a top Plainville excavation company.
The following testimonial is from one of our many happy paver patio installation customers.
I had Adam design, plan and install a large paver patio with a raised hot tub platform, Adam and his team were efficient, on time and cleaned the job each day. It has been 2 years and my patio still looks brand new!!

Denise, Southington CT
Why Choose Patio Pavers?
Patio pavers come with a wealth of benefits when compared to other options like concrete.
One of their greatest advantages is that they come in various patterns and colors, giving you, as the homeowner, the freedom to create unique designs that cater to your preferences and fit in seamlessly with your home's design style.
Unlike other materials, patio pavers are relatively easy to clean and maintain; all it takes is a sweep and a wash now and then.
Patio pavers' versatility also makes them repair-friendly, as you can quickly replace individual pieces rather than the entire surface if damaged.
Why You Shouldn't DIY Your Patio Paver Project
Undertaking a DIY patio paver installation project can indeed be an alluring idea, especially if you're trying to pinch pennies.
However, it isn't always the best option. Installing patio pavers requires experience, precision, and the right tools and equipment, all of which Valley View Excavation possesses.
Without the proper knowledge and tools, DIY-ing it can result in an uneven surface or even cause damage to the surrounding environment.
Plus, without the right professional tools, a DIY project might have the tendency to drag on and take longer than it should, which can result in frustration and disappointment – and potentially an even more expensive project than it would be if you had hired us in the first place.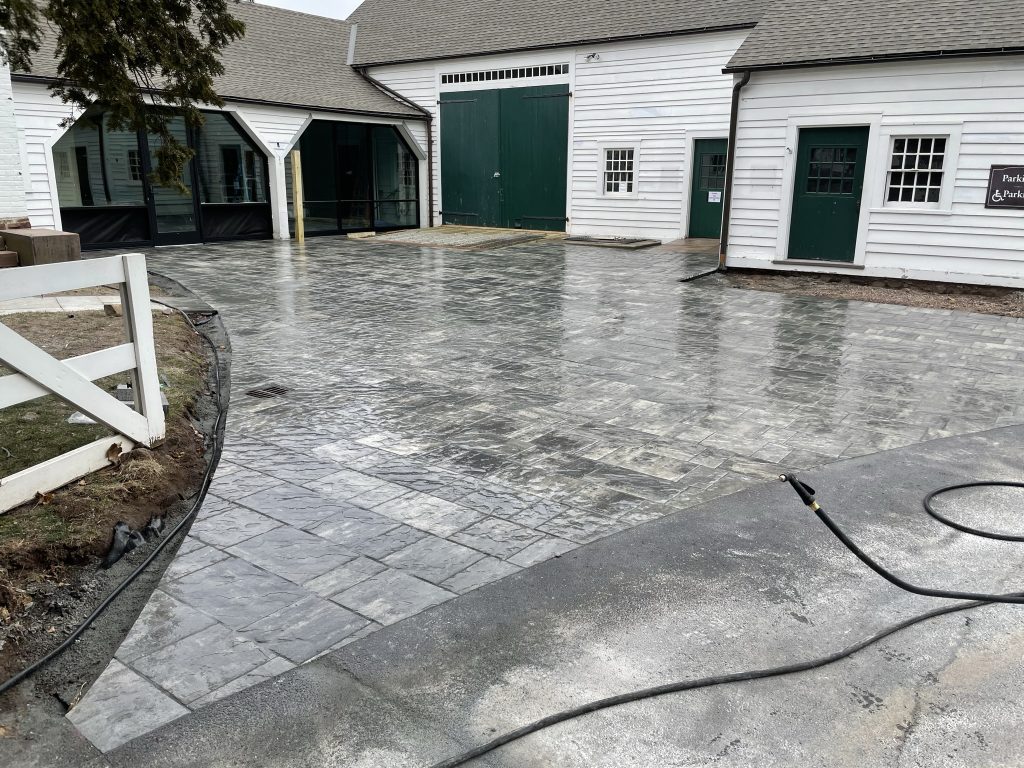 Choose the Best Plainville, CT Patio Paver Contractor
If you're in the market for an experienced patio paver installer in Plainville, CT, Valley View Excavating should be your go-to option. Here's why:
Experienced & Professional
Valley View Excavating has years of experience in installing patio pavers and employs a team of skilled professionals. We strive to exceed our clients' expectations and ensure they are satisfied with the end result.
Top-Quality Materials & Tools
We use only top-quality paver materials, coupled with our state-of-the-art tools and equipment. This ensures a perfect paver installation with uniformity and precision.
Our team works with clients to create beautiful and personalized patio designs that match their preferences and style.
Our pricing is competitive, making sure that our clients get the best possible pricing without compromising on quality or aesthetics.
With our years of experience, skilled team of professionals, quality work, and all these other features, you can be sure that your patio paver installation project will go off without a hitch.
Contact Valley View Excavation today to get a free quote on your next project.
About Plainville, Connecticut
Plainville Weather
Plainville Overview
Plainville, Connecticut's population is 17,500 residents. The town is located in Hartford county and is known for having good schools and great outdoor activities. Plainville has a small downtown area with storefronts and restaurants. Interstate 84 runs through Plainville and makes it a popular location for commuters from Hartford and other larger cities in Connecticut. The town also has public transportation.
Geography
The town is approximately twenty-five square miles. It is a mostly residential town with some businesses in it. The town is bordered by the following towns:
Southington
New Britain
Farmington
Bristol
Numerous natural sites can be found throughout the town, such as Norton Park, which has a pond, picnic spaces, and walking routes.
Town History
Plainville was formerly a part of Farmington but separated into its own municipality in 1869. It used to be a popular area for manufacturing in Connecticut. The historic district includes the downtown area. One popular historical site is the Plainville Camp Ground which was a gathering spot during the 20th century for Methodists.
School System
The town offers an excellent public education system. Schools provide both high academic standards as well as many fun extracurricular programs.
Popular Attractions
The following are a few popular attractions in the town.
Norton Park
Norton Park is Plainville's largest park. It is 272 acres and has walking routes, picnic spots, playgrounds, sports fields, and a pond. The park has concerts and festivals that happen throughout the year.
Second Timothy's Tavern
One of the most popular restaurants in Plainville is J. Timothy's Taverne. This restaurant is best known for its "dirt wings," which are wings that have been deep-fried and then seasoned with a blend of spices. Burgers, sandwiches, and salads are just a few of the numerous pub-style meals available at J. Timothy's Taverne.
Farmington Canal Historic Trail
The 84-mile Farmington Canal Heritage Trail connects New Haven, Connecticut, with Northampton, Massachusetts. The trail runs through Plainville along with several other towns in Connecticut.
The Barnes Nature Center
In Bristol, not far from Plainville, there is a wildlife preserve and educational facility called the Barnes wildlife Center. The facility offers a pond, a number of walking trails, and a range of educational activities. Families and environment lovers who want to discover the region's natural beauties should visit the Barnes environment Center.
Valley View Excavation also does retaining walls and is a top Plainville patio paver contractor.