Are you searching for a way to add a new level of style and functionality to your outdoor space? Retaining walls might be the perfect solution. These walls serve a crucial purpose in preventing soil erosion, while also providing an attractive addition to any landscape.
At Valley View Excavation, we take pride in being the Plainville retaining wall contractor that homeowners trust for all of their landscaping needs.
If you are considering a retaining wall for your property, read on to learn more about our top-notch services.
Valley View Excavating is a top Plainville retaining wall contractor and we install all sorts of retaining walls. View our project gallery of retaining wall projects to see some examples of our work. We are also a top Plainville patio paver contractor.
The following is a testimonial from one of our many happy customers.
Hi Adam, Now that the smoke has cleared and the dust has settled…….
I wanted to thank you again for the great job you did with the rip-rap. It was a real pleasure working with you and wish we had another project to work on……but maybe in the future.
Thanks again.

Stan, Avon CT
Why Add a Retaining Wall
Retaining walls offer a wide range of benefits, both in terms of functionality and aesthetics. These walls can be used to create a tiered garden or a much-needed elevated platform in your yard.
Beyond their visual appeal, retaining walls also help to prevent soil erosion, keeping your landscape looking fresh and lush for years to come.
Our team of skilled professionals will work with you to design a wall that will blend seamlessly into your outdoor space, adding both beauty and function.
Quality Materials and Professional Installations
We believe that the key to a successful retaining wall project is a combination of high-quality materials and professional installations. That's why we only use the best materials, from the topsoil to the retaining wall blocks, for every project we take on.
We also follow strict installation protocols to ensure that your retaining wall is stable and long-lasting. Our team understands that the quality of our work is a direct reflection of our company, and we take pride in every project we complete.
Not only that, but we make sure your project is safe and durable so that it lasts for years to come. We're well-versed in all of the Plainville, CT building codes (as well as those for the surrounding areas), so we will make sure your project is up to code.
Retaining Wall Contractors Near Me – Choose Valley View Excavation
Whether you're still exploring retaining wall ideas or you're ready to take the plunge and finally tackle this project for your outdoor landscaper, you need a retaining wall contractor you can trust. That's where Valley View Excavation comes in.
At Valley View Excavation, we pride ourselves on our expertise in retaining wall design. We understand that every project is unique and requires a custom approach.
Our team will work with you to assess your outdoor space and understand your specific needs and preferences. Whether you are looking for a modern design or something more traditional, we have the knowledge and experience to create the perfect retaining wall for your property.
We are passionate about creating beautiful and functional outdoor spaces, and we would be honored to help you bring your vision to life. Contact us today to learn more about our services and schedule your free consultation.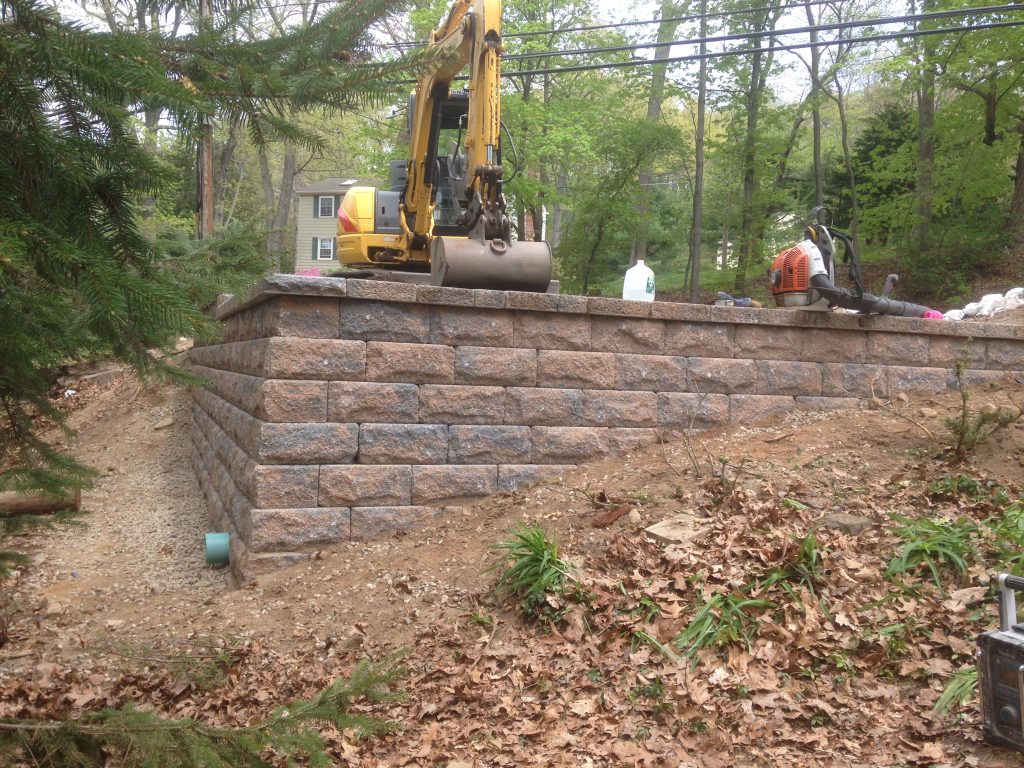 About Plainville, Connecticut
Plainville Weather
Plainville Overview
Plainville, Connecticut has a population of 17,500 residents. It is located in Hartford county and is known for having good schools and great outdoor activities. Plainville has a small downtown area with storefronts and restaurants. Interstate 84 runs through Plainville and makes it a popular location for commuters from Hartford and other larger cities in Connecticut. The town also has public transportation.
Geography
The town is approximately twenty-five square miles. It is a mostly residential town with some businesses in it. The town is bordered by the following towns:
Bristol
Farmington
New Britain
Southington
Numerous natural sites can be found throughout the town, such as Norton Park, which has a pond, picnic spaces, and walking routes.
Town History
Plainville was formerly a part of Farmington but separated into its own municipality in 1869. It used to be a popular area for manufacturing in Connecticut. The historic district includes the downtown area. One popular historical site is the Plainville Camp Ground which was a gathering spot during the 20th century for Methodists.
School System
The town offers an excellent public education system. Schools provide both high academic standards as well as many fun extracurricular programs.
Popular Attractions
The following are a few popular attractions in the town.
Farmington Canal Historic Trail
The 84-mile Farmington Canal Heritage Trail connects New Haven, Connecticut, with Northampton, Massachusetts. The trail runs through Plainville along with several other towns in Connecticut.
The Barnes Nature Center
In Bristol, not far from Plainville, there is a wildlife preserve and educational facility called the Barnes wildlife Center. The facility offers a pond, a number of walking trails, and a range of educational activities. Families and environment lovers who want to discover the region's natural beauties should visit the Barnes environment Center.
Norton Park
Norton Park is Plainville's largest park. It is 272 acres and has walking routes, picnic spots, playgrounds, sports fields, and a pond. The park has concerts and festivals that happen throughout the year.
Second Timothy's Tavern
One of the most popular restaurants in Plainville is J. Timothy's Taverne. This restaurant is best known for its "dirt wings," which are wings that have been deep-fried and then seasoned with a blend of spices. Burgers, sandwiches, and salads are just a few of the numerous pub-style meals available at J. Timothy's Taverne.
We also offer complete excavation and sewer line excavation services in Plainville.